Sesame Seeds Product details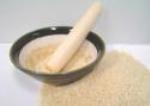 Product by:
Carwari


Our Carwari's Sesame seeds are available in two types of sesame seeds:
1) Black
2) White

Its white sesame comes in both hulled and unhulled. Light & double roasted seed both are provided for all seeds. Double roast is much enhanced for the entire Asian pallet. It include a darker colour, which is to stronger in aroma and flavour.
Please use the Contact form on the right for Sesame Seeds information and ordering.