Silver Bud Tea Product details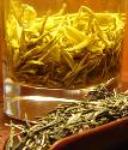 Product by:
High Mountain Tea Co.


High Mountain Tea Co. offers a product that is Silver Bud is an exceptional and impressive green tea. The most moderate in the middle of the baggy green leaf tea. Early in the mechanism, the person leaf bloom are pulled out before opening and skillfully handcrafted hooked on little spiral shapes. Every bud is enclosed with silver colored tips. The tea is identified for its delicate preliminary taste and multifaceted after-taste. All amount of antioxidants and low in caffeine is a very healthy tea. It is prepared by the help of traditional processing method passed down from five generations ago. This wonderful tea has a light body and brings flavorsome pale green which is colored liquor.

It has the best way to drink this diversity of tea in a highball Glass so the fine delicate buds can trendy and "dance" when more water is supplemented. Due to this tea is tremendously delicates it is suggested to add the tea to the water rather than the further ways around it. This will avoid the tea from appropriating burnt, which results in a bitter taste. One of the exclusive features of this tea is that it falls to the base of the glass/cup so you can drink directly.Whatever research methods you use ensure that there is sufficient space for the leaf to grow up to 3-5 times in size.

Green tea includes fluoride and phytoestrogens, which may preserve against osteoporosis and boost bone concentration. A study from China, published in a 2002 has a concern of the documentation of Internal Medicine, found that adults who drank tea at least once a week for 6 to 10 years had denser lumbar vertebrae than nondrinkers.
Please use the Contact form on the right for Silver Bud Tea information and ordering.
Other High Mountain Tea Co. Products
1 listed

Jade Green High Mountain Tea Co.a high quality organic green tea is made according to the cure, fire wind process introduced to the Japanese hundreds of years ... more »