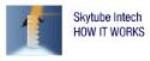 Product by:
Skyglazing


Skyglazing commence a Skytube Intech technology that has instantaneously taken a quantum leap gratitude to Skydome's innovative Skytube Intech.
With its patented Intech Lens, it is the only tubular skylight that can store and redirect low altitude sun, early morning, late afternoon and winter. Further products simply execute to their most favorable when the sun is high in the sky.
Skytube Intech's cutting-edge One-Bounce technology makes sure to performance all day long. More anticipated light whatever the period. No heat transfer.
Just chill daytime all year surrounding. Each Skyglazing Skytube Intech features the patented Variable Pitch Adapter (VPA), which is allocate for simple equipment and to assurance that the illumination tube does not require to elbows or joints from the roof to the extent less than: radiance cannot travel in the region of spot
Please use the Contact form on the right for Skytube Intech information and ordering.