Skywindows Product details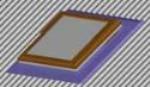 Product by:
Skydome Skylight Systems


Skydome's has various range of roof windows, Sky-window which formed a modern or stylish look add to any residence. Together with a five star (*****) Energy Rating, each skywindow is pretend using Low-E double Glazing and framed in good-looking Nordic Pine. Its thermal properties will make sure for minimal heat loss on the duration of winter season and minimal heat rising on the summer season.

The Skydome Skylight Systems Skywindow is applicable in various varieties of dimensions and opening options. These options offer maximum exposure to air and simple Cleaning. There is also a non-opening model that manages correspondingly to a conventional skylight. A variety of options and trimmings exist together with electronic opening, blinds and shutters.
Please use the Contact form on the right for Skywindows information and ordering.