Smart Wash Product details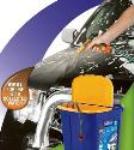 Product by:
Inovex Australia


Inovex Australia's Smart Wash is properly cleans your vehicle, caravan / trailer or boat without position concern on their planet's expensive Water properties.
This ingenious 12 Volt powered washing system removes soap suds answer grime with just 25 liters/ 6.5 Gallons of water (average usage). Its Smart Wash Pumps can wash vehicle from water at a distance of 20 metres/6.5 feet which is constructing it perfect for the major and nominal wash jobs.
Please use the Contact form on the right for Smart Wash information and ordering.