Soil Moisture Tension Sensors Product details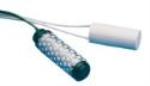 Product by:
Measurement Engineering Australia


GBHeavy and Watermark (GBLite) Sensors: - The Measurement Engineering Australia has 2176 GBHeavy and MEA2195 Watermark both is soil moisture tension sensors.

2176 GBHeavy:

1. It has so many varieties from 50 to 500kPa and

2. It is only used in clay or loam soils with grape vines or further deep embedded plants.

3. It is used when using Regulated Deficit Irrigation techniques.
Measurement Engineering Australia's Soil Moisture Tension Sensors Watermark (also referred to as the GBLite) is used in all soil types and has a range from 10 > 200kPa.
Please use the Contact form on the right for Soil Moisture Tension Sensors information and ordering.
Other Measurement Engineering Australia Products
1 listed

The HMP45A is an air temperature and relative humidity sensor. Each probe is delivered from the factory with a calibration certificate.... more »
Factory –
Eco Engineers –
Green Engineers