Solar Heat Extractor Product details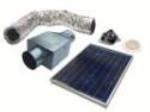 Product by:
Alternative Fuels and Energy


Alternative Fuel and Energy's Sun Lizard Solar Heat Extractor is the first entirely solar powered heat extractor on the Australian market. It will allocate you to diminish the build-up of heat inside of your house, you need to maintain it ventilated and cooler by up to 10 degrees on the duration of summer with no consecutively costs or conservatory gas production Offered as a effortless and easy to establish DIY kit, this system can aerate up to 2 rooms or spaces (standard kit) at a time.

It also comes with a 240/12 volt plug pack for night time function. This enables you to establish the organism without the requirement for an Electrician on to presented buildings or those buildings which is on under construction.
Please use the Contact form on the right for Solar Heat Extractor information and ordering.
Other Alternative Fuels and Energy Products
1 listed

Sun Lizard Solar Air Shifter Alternative Fuels and Energy's Sun Lizard Solar Air Shifter is an ideal and energy efficient way of extending the rea... more »
Alternative Fuel –
Eco Fuel –
Fuel