Solar Pumping Product details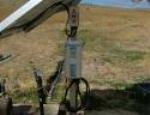 Product by:
Solar Pumping Solutions


The German designed Lorentz Helical Rotor (HR) and Centrifugal (C) submersible Pumps are manufactured particularly for Solar and battery operation.
The Helical Rotor systems of Aussie Solar are introduced for complex lift applications where the Centrifugal systems are intended for lower head, higher flow applications.
They are offering high consistency and long life anticipation for the maintenance free systems which offering the cost-efficient pumping. Aussie Solar technicians can support with the assortment of the exact model for your request.
Please use the Contact form on the right for Solar Pumping information and ordering.
Other Solar Pumping Solutions Products
2 listed

Fixed arrays Solar Pumping Solution's fixed array's are supplied with all PS200 systems and will support up to 300 watts of Kaneka panels. Solar ... more »
pump –
pumps –
construction

Solar Pumping Solutions supplies a range of commercial and domestic prefabricated water tanks from highline Ltd. 30 years of manufacturing experience. ... more »
Eco Storage –
Eco Water Tanks –
Green Storage