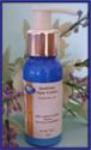 Product by:
Natural Earth Skin Care


Natural Earth Skin Care is a genuine source of natural goodness for the skin. We uses honey which has Healing, moisture and softening properties.
It Enriched the skin with: -
1) Vitamins,
2) Minerals & amino acids,
3) Honey softens tones,
4) Nourishes the skin and
5) Improves its texture.
Following are the feature regarding Natural Earth Skin Care's soothing face cream: -
1) It is prepared with Organic extracts such as Organic honey and Organic shea butter.
2) It is completely suitable for all types of skin types.
3) With grape germ oil supplementary to fight free radicals, it keeps your face from aggressive external elements.
4) This product is an anti-ageing product and helps hold back fine lines.
5) It can be used any time on day or night
Please use the Contact form on the right for Soothing Face Cream information and ordering.