Spring Creek Community Forest Product details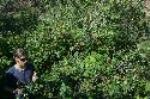 Product by:
Holmgren Design Services


Spring Creek Community Forest is a stream corridor forest which is located on the north region of the township of Hepburn in central Victoria which is controlled by Informal network of locals for 20 years.
It is a combination of native and naturalized vegetation. Willows are the most widespread water edge tree which is found in so many areas of SE. Australia has been the target of misguided publicly funded obliteration programs. At Spring Creek, it has the authorities that have (up until now) largely left the locals to control the area (using common sense low impact methods including some supplementary planting). Recreation, guided tours, and scientific research have been one of the many outcomes.
Please use the Contact form on the right for Spring Creek Community Forest information and ordering.
Other Holmgren Design Services Products
1 listed

Guided Tours Holmgren Design Services provide "Melliodora" is one of the best documented and well known permaculture demonstration sites in Austra... more »
Eco Tours –
Tourism –
Wildlife Tours