Standard Pallet Product details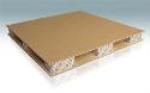 Product by:
The Cardboard Pallet Company


The Cardboard Pallet Company providing a standard pallet that is applicable to support load over 2 tones.
It has a smooth top deck which is allowing stable stacking of products. The corrugated pallets cushion the load and suck up road shock occur on the time duration of transportation of product. There is nothing any nails or splinters to damage personnel on that time when managing our pallets.
A standard size of pallet:

1) Size : - 1165*1165 pallet

2) Weight : - 6kgs

It is evaluated to more than 20kg for a same Timber pallet.
Please use the Contact form on the right for Standard Pallet information and ordering.
Other The Cardboard Pallet Company Products
1 listed

Custom made Pallets The Cardboard Pallet Company Pallets are custom made to specific and individual requirements allowing for weight and size of... more »
Green Companies –
Eco Companies –
Eco Business