Stramline Closed Circuit Gas Boosted Product details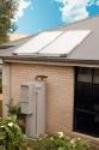 Product by:
Solahart


The Solahart Streamline closed circuit system is a split system Solar Hot Water heater with roof mounted slim-line satellite dish and a ground mounted outside storage tank. There is a closed circuit design which protects this system from freezing. This system gives you a option of either the Solahart Kf or J collector.

The solar controls and Pumps housed within solar connections and jacket on top of the tank which brings for simpler and tidier equipment.

The system is ready with a gas 5 star booster which senses on that time period when boosting is necessary to make sure constant hot water despite of the Climate. The water heater also provide the expediency of double temperature outlets, so the tempered water can be distributed to the bathrooms and hot water can be delivered to the kitchen and laundry.




Please use the Contact form on the right for Stramline Closed Circuit Gas Boosted information and ordering.
Other Solahart Products
8 listed