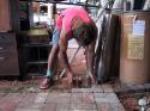 Product by:
The Bower Reuse and Repair Centre Co-operative


The Bower Reuse and Repair Centre Co-operative is a brilliant example of Sustainable Building practices.
It completed an entire building with Strawbale and re-used equipment. The 1st Strawbale building is constructing in Sydney which is 258sqm. This building consist of solar designed warehouse, 600 Strawbale construct up the in-fill walls, and the insulation is fabulous.
This building uses whole recycled equipment in its time of manufacturing:
1. Load-bearing posts recovered from demolition sites,
2. Roof trusses from Royal Prince Alfred (RPA) Hospital refurbishment,
3. 5,000 secondhand bricks,
4. Second hand roof sheeting, and
5. All doors and windows were salvaged from waste on Sydney streets.
It is comparatively new in Australia, although as a technique of building it has over 100 years of history in the United States, and simply slightly less in New Zealand.
Please use the Contact form on the right for Strawbale BUILDING information and ordering.