Suntop Solar Panels and Solar Modules Product details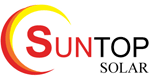 Product by:
Suntop Solar


Suntop Solar has top quality Solar Modules and solar cells from 20w to 285w, both mono and poly crystalline.
Suntop Solar's solar modules and solar cells Certified by UL, TUV, VDE, ETL, CEC, IEC, CE ISO9001 and ISO14000.
Suntop Solar gives a 5 years material and processing warranty, and 25 years performance warranty. Suntop Solar also has OEM.
Please use the Contact form on the right for Suntop Solar Panels and Solar Modules information and ordering.
Other Suntop Solar Products
1 listed

Suntop Solar has top quality solar panels and solar cells, both mono and polycrystalline. Certified by UL, TUV, VDE, ETL, CEC, IEC, CE ISO9001 and ISO14000.... more »
solar cells –
Solar Products –
Solar Energy