Support Your Community To Support Itself Product details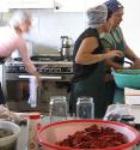 Product by:
Ceres - Environment Park


The CERES- Environment Park's Food Project is a group of people supporting social activity producing certified Organic Food products.
This project trains Kurdish and Turkish migrant to work on there and run his food business although making use of seasonal peaks in locally grown organic produce.
As business developing, the staff employees will be the permanent employment of that organization whilst gaining recognized training in Hospitality, tiny business and English language experience.


Please use the Contact form on the right for Support Your Community To Support Itself information and ordering.