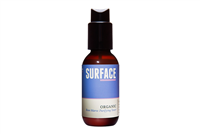 Product by:
SURFACE (ORGANIC) SKINCARE


Rose Maroc Purifying Toner – 100ml ~ 3.4 fl. oz
This purifying toner is the most effective hydrating toner we've ever used.
Naturally stimulating, this richly hydrating toner improves and tightens the skin's pores while effectively removing cosmetic residue. The organic rose hydrosol water helps repair broken capillaries, effectively reducing skin rash and redness.
Formulated for all skin types with a natural pH balance level. Especially effective for any

sensitive, dry, mature and irritated skin.

After applying for 3 days :
-90% agreed that their skin looked and felt more refreshed after using Rose Maroc purifying toner.

-90% agreed that they felt " instant relief " from sun burn after using Rose Maroc purifying toner.

After 6 weeks:
-90% agreed that their skin's pores had improved and tightened.
-90% agreed that the skin's dryness has improved after used the toner combined with Rejuvenating Creme.
How to use this product : Morning and Night : For face : For men and woman

Spray directly to your face and neck after cleansing skin. Leave on for 15 seconds.
For men the Rose Maroc toner is great for after shaving and very effective for sensitive skin!
What else you should know?
Our ingredients are highly sustainable, we supporting our local farmers, ethically traded, fair-trade compliant, and certified organic ingredients, use recycle packaging.
Ingredients
Melaleuca Alternifolia Hydrdosal water organic,Rose flower Hydrosal Water Organic*, Papaya Extract Organic*,Vegetable Glycerine Organic*, Chamomile Organic*,Flower Water, Green Tea Extract Organic*, Quandong Extract Organic*,Kelp Extract Organic*, Rose Maroc Geranuim Oil, Rose Flower essential oil.
*95% of the total ingredients are from local organic farming across Australia and 100% of the total ingredients are from Natural Origin
*We do not use imported ingredients
*100% Vegan.
Please use the Contact form on the right for Surface Rose Maroc purifying toner information and ordering.