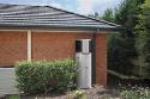 Product by:
Synergy


The Solahart Synergy's ingenious technology take out the heat temperature from the environment to heat your water, providing to most of the family extra hot water than they will ever use, at around 1/3 of the energy utilization of a conservative electric not water heater.
It is a smart, energy well-organized option to traditional Solar water heaters. Rather than using solar collectors, it uses highly competent heat pump technology to take out heat from the surrounding air.
Please use the Contact form on the right for Synergy information and ordering.