Temperature And Humidity Product details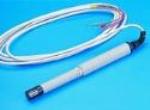 Product by:
Measurement Engineering Australia


The HMP45A is an air temperature and comparative humidity sensor. Every probe is circulated from the Factory with a calibration certificate with traceability to international standards.

1) HMP45A Probe: - It measures air temperature and comparative humidity

2) HMP45A Sensor: - It is used in the house Measurement Engineering in Australia 2184 or Measurement Engineering Australia 2182 sensor shelter.


Eco Data measured by the HMP45A measures up to 100% comparative humidity, dangerous for infection calculation measurements.
Please use the Contact form on the right for Temperature And Humidity information and ordering.
Other Measurement Engineering Australia Products
1 listed

Soil Moisture Tension Sensors GBHeavy and Watermark (GBLite) Sensors. The Measurement Engineering Australia 2176 GBHeavy and MEA2195 Watermark... more »
Eco Engineers –
Eco Irrigation –
Green Engineers