The Brown Bear F Series Forest Mulcher Product details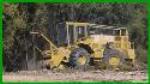 Product by:
Recycle and Composting Equipment


The Brown Bear F Series Forest Mulcher is FS4000 & FS5000 from Recycle & Composting Equipment will diminish trees from 10-12 inches in width to mulch.
The 3-meter wide thrash rotor is prepared with 54 sharpened, heat-treated cutters, each independently, relatively pin mounted.
The cutters are situated in the drum by centrifugal force. It should be the cutter deflects, that is totally free to turn 360 degrees around the pin mount to reduce injure. Its every cutter is lie on top on both sides by another cutter to distribute smooth slice stub.
Please use the Contact form on the right for The Brown Bear F Series Forest Mulcher information and ordering.
Other Recycle and Composting Equipment Products
1 listed

Brown Bear Brush Cutters Recycle and Composting Equipment's Brown Bear Brush Cutters is self-propelled brush and tree shredder attachments to... more »
Fence –
Eco Recycling –
Recycle