The Pump Boots Product details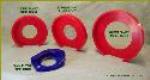 Product by:
McBerns


McBern's Pump Boots are an pioneering polyurethane seal intended to conquer troubles in front of maintenance personnel when the pump bowl and pedestal faces on submersible Pumps are worn out and will not seal.
They are swift, easy and secure to fit, so the pump station isn't close down for an extended time.
McBern's also advocates appropriate the Pump Boots to fresh pumps prior to installation for avoid wear earlier than it occurs.
hese modernizations keep time and money and can enlarge the functional life of pumps for a lot of years. So as a substitute of replacing the pump you are presently substituting the boot.
Please use the Contact form on the right for The Pump Boots information and ordering.
Other McBerns Products
1 listed

The McBerns Digital Timing System (DTS) uses an Idec Smart Relay to limit the amount of water used by the McBerns AutoWell Washer.... more »
Pump –
Eco Green Water Pump –
Eco Water