The Seed Savers' Handbook Product details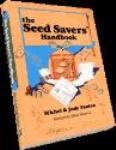 Product by:
Seed Savers Network


This is a comprehensive indication for increasing, arranging and conserving one hundred seventeen conventional ranges of Food Plants. Written mainly for Australian and New Zealand circumstances in 1993 by Michel and Jude Fenton, originator of The Seed Savers' Network.

The Seed Savers' instruction book has 180 pieces of Paper with stunning original diagram. This book has so many Translations into Spanish, Italian, Japanese, Khmer and Bulgarian & it is sold in whole world approximately 45,000 in number.
Please use the Contact form on the right for The Seed Savers' Handbook information and ordering.
Other Seed Savers Network Products
1 listed

Animal Breed Ownership Concentration Consumers are usually not told which breeds of chicken, cattle or swine have produced the eggs, milk and meat... more »
Meat –
Green Companies –
Supplies Companies