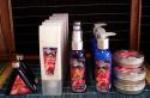 Product by:
Volcanic Earth


Volcanic Earth's The UNPREDICTABLE Range is individually prepared for women. Our all-Natural, unpredictable collection will pamper your senses with its predominant aroma of untainted Frangipani indispensable Oil and the warm, comforting perfume of pure Vanilla indispensable Oil.
The UNPREDICTABLE Range also offers porducts coupled with Vanuatu's perfectionist Virgin Coconut Oil, specialized Organic Cocoa Butter, Sweet Almond Oil, unique blends of Jasmine, Bergamot, Cedar wood and Neroli Essential Oils.
The UNPREDICTABLE Range will: -
1. Stimulate your circulation;
2. Protect against damage from the elements;
3. Give your skin a healthier, more youthful, appearance.
4. Soothe emotional tension and enhance your inner strength;
5. Promote healing and help restore your natural skin balance;
6. Volcanic Earth's The UNPREDICTABLE Range deeply cleanses, soften and moisturize your skin;
7. Take the edge off PMT, menopause, muscle spasms and cramping Uplift your spirits; heighten your sensuality, confidence and motivation.
Please use the Contact form on the right for The UNPREDICTABLE Range information and ordering.