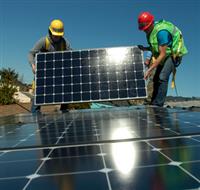 Product by:
Solar Dynamics


Here at Solar Dynamic, we get often get asked what exactly is the difference between Tier 1, Tier 2 and Tier 3 Solar Panels. When purchasing a solar system, the quality of the components to be used is frequently a key consideration. However, differentiating one brand from another may not be so simple, especially in the case of solar panels, of which there are hundreds of brands on the Australian market.
The terms 'Tier 1′, 'Tier 2′, and 'Tier 3′ are often heard with regard to Solar Panel manufacturers as a way of distinguishing the wheat from the chaff. This article is a brief overview of the difference between the solar panel tier rankings.
Tier 1 manufacturers represent only a small slice (2%) of the total number of manufacturers on the market, but a number of factors set them clearly apart from their competitors.
First of all, Tier 1 producers are vertically integrated, meaning that they don't simply assemble solar panels using other companies' products, they manufacture their panels from the ground up. This means that they control the production process for everything from the silicon cells to the modules frames and ultimately panel assembly.
Manufacturers ranked as Tier 2 are the 'middle ground' between Tier 1 and Tier 3, comprising about 8% of the market. Although they have been producing panels for longer than Tier 3 manufacturers (2-5 years), they still invest relatively little money in R&D compared to Tier 3 manufacturers. Robotic automation does not always play a major role in their panel production lines.
Many Tier 2 manufacturers doubtless have Tier 1 aspirations, but may not have the wherewithal or experience to yet make the cut.
Please use the Contact form on the right for Tier 1, Tier 2 and Tier 3 Solar Panels Explained information and ordering.