Under-Desk Bins Product details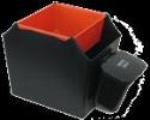 Product by:
CBD Enviro Services


One bin set supply as a common waste bin and the further for Paper or co-mingled recycling, which keep under-desk flooring gap. They have an aesthetically pleasing mean to suit all offices.

CBD Enviro Service's Under: -

a) Desk Bins is Australian premeditated and manufactured, containing Recycled polypropylene

b) It is An attractive alternative to unsightly cardboard and assorted contains Office papers lie flat and remain uncontaminated and suitable for recycling Simplifies daily waste disposal

c) Outer general waste bin is easily emptied and saves valuable clean-up time

d) Paper recycling bin weight does not go beyond OHS and has two handles for lifting

e) The inner rubbish bin depth has an facility for easy sorting of plastic, metal, and glass for division from paper and can be lined with a standard size plastic shopping bag

f) The plastic bin fits comfortably under each desk or can be shared between desks

g) May be customized for company engraved logos, labels and/or community colors.

h) CBD Enviro Service's Under-Desk Bins is intended exclusively to take full advantage of clean paper recovery.
Please use the Contact form on the right for Under-Desk Bins information and ordering.
Other CBD Enviro Services Products
1 listed

Under-Desk Boxes CBD Enviro Services provide small cardboard boxes that can be placed under desks next to general waste rubbish bins for the... more »