Under-Desk Boxes Product details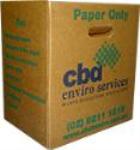 Product by:
CBD Enviro Services


CBD Enviro Services provide small cardboard Boxes that can be positioned below desks subsequent to common waste rubbish bins for the assortment of office paper. Contents are unfilled into 240-litre paper reprocessing bins.
CBD Enviro Service's Under-Desk Boxes only exist in two sizes (small and large). Large desk boxes are positioned in publish accommodation or next to photocopies where ever there are big volumes of paper.
Please use the Contact form on the right for Under-Desk Boxes information and ordering.
Other CBD Enviro Services Products
1 listed

One bin set serves as a general waste bin and the other for paper or co-mingled recycling, which saves under-desk floor space. They have an aesthetically pleasing ... more »
Enviro –
Eco Services –
Environmental Services