Versaline Product details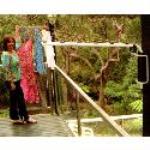 Product by:
SALA Homes


The Versaline disappearing clothesline provided by SALA Homes which is allows you to sustain the attractiveness of your home landscape by utilizing an exclusive bracket mounting system that make possible you to eliminate your clothesline as easily as taking a garment off the line.
SALA Homes Versaline authorizes you to better utilization and enjoyments of your environments.






Please use the Contact form on the right for Versaline information and ordering.
Other SALA Homes Products
1 listed

SALA HOMES Grey Water Diverter redirects household grey water to your garden instead of the sewers.... more »
Homes –
Grey Water Garden –
Eco Homes