Waste Awards Product details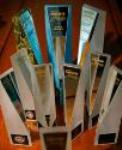 Product by:
No Waste


The highly competitive No Waste Awards are again on offer in 2007 with the submission period closing on Wednesday 17th October.
The No Waste Awards are an exceptional occasion to gain recognition for hard work finished towards sustainable reserve utilization within your organization.
Along with recognition, the Awards provide a chance to evaluate your efforts with further organizations, increase the environmental profile of your organization and to actively maintain the ACT Governments Climate Change and No Waste Strategies.
Please use the Contact form on the right for Waste Awards information and ordering.
Other No Waste Products
1 listed

Over 100 teachers in Canberra have attended Waste Wise Schools workshops.... more »
education –
waste education –
waste workshop