Water Feature-Twig Product details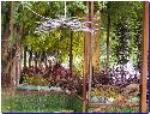 Product by:
Natural Inspirations


When there are twigs in mentality, then Natural Inspirations commence a new Water feature which is simple and quiet.
Natural Inspirations Water Feature-Twig is wonderful for a small courtyard garden for constructing a unique setting for a modern technique or yet can also go into an available older garden as a feature.
Construction of stainless steel with undetectable threads guiding and the water to sandstone based.
Please use the Contact form on the right for Water Feature-Twig information and ordering.
Other Natural Inspirations Products
1 listed

Gates & Fences - Bi Fold Bubbles In conjuction with Bold Simplicity, Natural Inspirations designed and constructed a very unique fence, With th... more »
Property –
Fence –
Natural