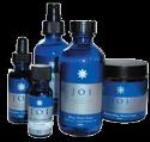 Product by:
JOI pure aromatherapy products


JOI is a pure aromatherapy product which is based on the holistic and scientific principles of aromatherapy. Essential oils are determined extracts from specific plants and parts of plants and as a group these are one of the most extremely active and successful cosmoceuticals in natural Skin Care today. All our pure essential oils are have positive quality and sourced according to variety and which have origin for their specific beneficial properties.
All our products are formulated by using these pure essential oils in sufficient concentrations to produce an extremely significant healing and rejuvenating response. JOI pure aromatherapy products are care for your skin without any harmful chemicals. They are not using petro-chemicals or derivatives, polyethylene glycols, chemically derived preservatives, lanolin, synthetic colors or fragrances, propylene glycol, sulphates, animal products or animal testing for production of their products.
They use such substances which can not only adversely affect your skin but also care for your skin on short and long term health.
Please use the Contact form on the right for Why Choose Joi information and ordering.