Winning Homes Product details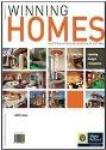 Product by:
Master Builders Green Living


Winning
Homes
is an indispensable portfolio for those considering building a new house or renovating their existing home.
Winning Homes showcases is the entrants for the Association's Excellence in Regional Building Awards and Housing Awards programs that provide Victoria's Master Builders with the opportunity to display their high standards of craftsmanship.
Master Builders Green Living packed with floor descriptions, plans and photographs of every award winner, as well as a directory of entrants.
Please use the Contact form on the right for Winning Homes information and ordering.
Other Master Builders Green Living Products
1 listed

Five times a year Master Builders Green Living updates members on the latest news in their industry. The magazine include editorial content and a variety of building ... more »
Builders –
Eco Builders –
Eco Building Products