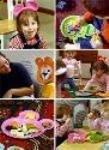 Product by:
Merino


Toddler makes your dinner so easier and also have lot of fun with colourful Plates shape like an animal face.
Zoo Pals is Ideal for busy Mums,because in each pack of food it contain a surprise assortment of microwave safe plates whiich are disposable.
Merino's zoo pals designed these plate with a wide rim and a deep shape, the plates are comfortable for food separation & dipping food.
Not only will Zoo Pals make food time fun for Kids. Kids can use the plates to make masks, puppets, animal ears and to play games, or they can collect a set of all plates for fun.
Please use the Contact form on the right for Zoo Pals information and ordering.