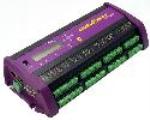 Product by:
DataTaker


Sustaining trembling wire sensors, the new dataTaker DT85G GeoLogger is perfect for all geotechnical data logging applications. The dataTaker GeoLoggers have fitted quivering wire base granting supreme data acquirement and observing elucidation for the engineer functioning in the geotechnical environment.
The minimal cost, trough power dataTaker DT85G is awfully multitalented and straightforward to arrange for contacts, data detention and data examination. Look at the data in genuine time or amass up to 5 million data points. Data storage and reclamation can be managed via USB memory stick, FTP, cell phone, Modbus for SCADA, Ethernet or Web.
The dataTaker GeoLoggers can supervise a broad assortment of geotechnical datalogging applications with grade constancy, subsidence, dam wall scrutinizing, tunnel and mining shove, ground water, tunnel wall monitoring and site evaluation.
The dataTaker DT85G has 16 analog channels competent of calculating up to 16 vibrating wire damage estimates with thermistors or 48 vibrating wire damage estimates without thermistors. The DT80G and DT85G can be long-drawn-out just by linking dataTaker Channel Expansion Modules (CEM20) to give 100 to 300 vibrating wire channels with thermistors.
Please use the Contact form on the right for dataTaker DT85G information and ordering.