organic apple juice Product details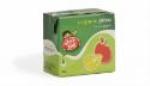 Product by:
Australian Certified Organic


Whole Kids Organic Apple Juice flavours are too nice due to that they use fresh tree-ripened apples crop entirely in Certified Organic orchards, somewhat than fruit deliberate. Kids love their juice very much. It is certified by the Biological Farmers' Association, so you can trust that your kids are drinking the most natural juice. And unlike some other juices, there's no added anything.
Following are the Ingredients of organic apple juice: - It is 100% hygienic apple juice from Australian certified organic apples. No added sugar.
Their luscious Apple Juice is available in handy-sized juice boxes (250ml tetra pack). It is perfect for children's lunchboxes or anytime a big kid's thirst requires quenching.
Please use the Contact form on the right for organic apple juice information and ordering.
Other Australian Certified Organic Products
3 listed

Organic Bread Stoneground Hi Fibre Sourdough Ingredients: Bill's Organic Bread's Australian Certified Organic stoneground unbleached wheat flour... more »
Eco Water Filters –
Water Filters Eco –
Certified Organic

Australian Certified Organic Pty Ltd (ACO) is Australia's largest certifier of organic foods and fibres.... more »
Organic Food –
Organic Certification –
Certified Organic

Quality Policy Casalare Specialty Pasta is a manufacturer of wheatfree glutenfree and certified organic specialty pasta and flour blends. The ... more »
Gluten Free –
Food –
Eco Food