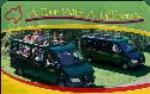 Product by:
A Tour With A Difference


With A Difference
A Tour With A Difference is family owned day tour company operated in melbourn. Its aim is offer you something new this is make sure by the owners, Brain and Grace.
The busses with 10 pessangers compatibility gives you new experience that will not offer by another too operator.
We want for you full comfort so we get you away from 20 to 50 seater buses and rush. . . .
Above all, we are happy to have achieved our aim of giving you the high quality service and to make your day care free and rafreshing.
We would like to take you to famous places and give you a day which is unforgettable in your life. . . . . .
Please use the Contact form on the right for A Tour information and ordering.