Aboriginal Uluru Tour Product details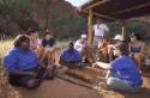 Product by:
Anangu Tours


Anangu Tours,

This is most famed of Uluru.
You can enjoy sunrise which makes your day refreshing on this tour. Anangu Tours provide you refreshing breakfast, overlooking Uluru and also provide Aboriginal guides with the Liru walk.You will find the path of Liru Ancestors through the bushland neer Uluru on the Liru walk.
Hear the disastrous fate of Lungkata (Blue Tongue Lizard Man), who is still lying at the base of Uluru.
You can see how fire maked without using matches, making wooden tools with sharpen stones and the art of to throw spear.
Please use the Contact form on the right for Aboriginal Uluru Tour information and ordering.
Other Anangu Tours Products
1 listed

Mala Walk Tour Don't want to get up early for sunrise, or want to book a Sunrise Camel Tour and still want to visit the rock? This is the tour f... more »
Eco Tours –
Eco Tourism –
Tourism