Absorption Trenches Product details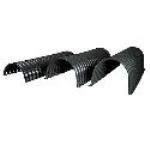 Product by:
Reln


Available in three sizes a) 230mm b) 350mm c) 410mm

Ideal for septic effluent, sullage waste or stormwater

Made by Recycled and steong plastic in Australia.

While installing Reln Drain Trenching with septic tanks Reln Drain matting to be used.
Please use the Contact form on the right for Absorption Trenches information and ordering.
Other Reln Products
1 listed

Reln Water Tanks With rainfall and our dam levels at an all time low and the price of water set to rise, there�s never been a better time to i... more »