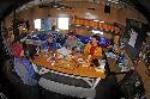 Product by:
Australian Antarctic Division


This season's Australian Antarctic Division Fellows have come back and keen to work on their projects.
Visual artist Nick Hutcheson, historian Lynette Finch and research writer Craig Cormick just returned from a six-week tour of Australia's Antarctic Division aboard the research and resupply ship Aurora Australis.
When asked about their skills, they were eager: 'For an artist, Antarctica is a visual overload. It is far bigger, bluer, intensive, harsher, and more intriguing than I had thought, and many of the memories I take away are of landscapes I had never contemplated seeing. I return to Australia and my studio with many books of drawings and a head full of imaginations for paintings."
Please use the Contact form on the right for Arts Fellows Return From Antarctica information and ordering.