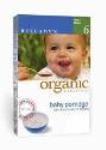 Product by:
Bellamy's Organic Farms


Bellamy's Organic Farm's Baby Porridge is appropriate for babies from the age of 6 months.
Baby Porridge introduces your baby to new tastes, though, is still a single ingredient, which makes it easy to assimilate.
Made from organically grown oats and milled, cooked and dried into fine flakes, it is perfect for breakfast or a light, nutritious meal through the day.
Baby Porridge is easy and simple to prepare by mixing with breast milk. You can also make use of cooled and boiled water.
For delicious variety when your baby is older, try our organic Baby Porridge with home-cooked and pureed organic apple or pear, naturally ripened and mashed organic banana or freshly stewed organic peaches.
Ingredients: Organic oats (99.97%),Vitamin C, Mineral (iron), Niacin, Thiamin, Vitamin B6, Folate.
Please use the Contact form on the right for Baby Porridge information and ordering.