Biodegradable Pots Product details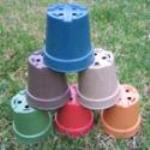 Product by:
Enviroarc


EnviroArc Biodegradable pots can provide plants an extra contented Growing environment.

Provide appropriation to planting outdoors and indoors in gardens and plant nurseries our plant pots are extremely flexible or versatile.

You can help in protection of invironment by not using plastics, styrofoams and other polluting materials. Our EnviroArc pots to date, offer you with the finest substitute to plastic pots.








Please use the Contact form on the right for Biodegradable Pots information and ordering.
Other Enviroarc Products
1 listed

Organic Fertiliser EnviroArc organic fertilizer is currently in the development and testing and testing phase. We hope to bring you a powerful a... more »
chemical make up –
organic