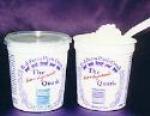 Product by:
B.-d. Farm Paris Creek


B.-d. Farm Paris Creek is frequently compared with cottage cheese, but the production process is parallel to that of yogurt, providing additional health benefits.
B.-d. Farm Paris Creek's Biodynamic Quark is nutritiously rich in protein and comprises all of the vital minerals, vitamins A, B and C, D and milk sugar found in whole milk. It exceeds the mineral composition of all other natural foods.
You can use the Quark in lots of yummy and healthy dishes together with the following ideas: -
- Fresh desserts (add honey, fruit, berries or jam)
- Savoury Quark spreads and dips (add herbs, chives garlic, caraway seeds, parsley, salt)
- Delicious fillings for cakes, pasties and strudels (add honey or sugar, a little polenta, eggs)
- Children love it sweet and slightly frozen instead of ice cream.
- Shortbread and biscuits (add flour, eggs, salt or sugar)
Please use the Contact form on the right for Biodynamic Quark information and ordering.