Clearfresh Water Product details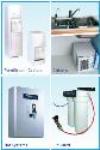 Product by:
ClearFresh Water


ClearFresh
Water
is an expert
Business To Business
Filtered Water
service supplier. Our focal point lies purely in bottle free water systems which assure businesses save time and money by release them of the load of awkward bottles.
ClearFresh Water has make a desirable reputation based on three major components: exceptional value, exceptional cost savings and exceptional after sale support. We have the membership of the renowned U.S Water Quality Association and we service a varied range of industry sectors including Healthcare, Education, Commercial and Industrial.
Please use the Contact form on the right for Clearfresh Water information and ordering.