Clivus Multrum Product details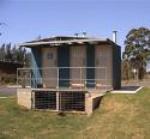 Product by:
Clivus Multrum


The Clivus Multrum is a self-reliant, waterless, odourless eco toilets treatment system. It uses no chemicals, heat or Water and has no polluting release.

More than 60,000 litres of water should be saved in the average home with the use of Clivus system and it cost's much less than regular treatment system. It is stands on one of the oldest principles in nature - simple organic decay.


Please use the Contact form on the right for Clivus Multrum information and ordering.