DeepGreen Alkalising Superfood Value Pack Product details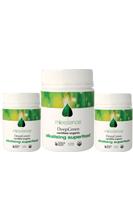 Product by:
Miessence


Our brand new, revolutionary DeepGreen Alkalising Superfood is Natural Food crafted to nourish and alkalise your body and mind with the most potent and nutrient deep-green foods on this Earth. And it can be found right here in our DeepGreen Alkalising Superfood Value Pack.
The food is completely raw, Vegan, and certified organic and highly concentrated as well as dense.
It is a potent source of alkalising minerals and is formulated without the use of fillers. The superfood makes the immune system strong whilst also enhancing mental focus and clarity.
Please use the Contact form on the right for DeepGreen Alkalising Superfood Value Pack information and ordering.
Other Miessence Products
92 listed