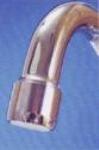 Product by:
AquaSmart


AquaSmart's EcoClic presents quick click-on solution for saving tap Water instantly. We are having a proud of our Swiss engineered design and you can anticipate good worth and extensive use of our product.

AquaSmart's EcoClic's Anti Theft Version is perfect for reduce the water wastage in Hotels, Motels, Organisations, Public Places and of course the home!
Please use the Contact form on the right for EcoClic information and ordering.