Econo Heat eHeater Product details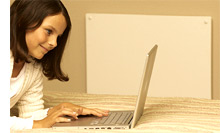 Product by:
Econo Heat


The Econo Heat eHeater's have the following features:
• Energy SAVING – SAVE UP TO 50% ON YOUR HEATING COSTS!
• QUICK AND EASY TO INSTALL
• SAFER FOR CHILDREN AND PETS
• ULTRA SLIM AND COMPACT DESIGN
• Inexpensive to acquire, inexpensive to run
• Whole room heater as opposed to freestanding locality heaters
• Energy saving – save up to 50% or more on your heating costs
• Efficiently warms a room of approximately 12m² (9m² in very cold climates)
• Uses efficient convection technology
• Non-flammable. Non-combustible
• No drying of the air. No oxygen burnt up
• Asbestos free. Contains no harmful chemicals or metals
• Safer for children and pets – no exposed elements, gas or fans
• Ultra slim and compact design. Out-of-the way wall mounting
• Quick and easy to install with the patented Econo-Kit
• Can be painted to suit décor
• SABS and international safety standards approved
• Two-year warranty
Please use the Contact form on the right for Econo Heat eHeater information and ordering.
Other Econo Heat Products
3 listed

Safe, efficient and inexpensive, the Econo Heat panel heater is the kind of quiet achiever we like. The unobtrusive e-Heater suits any décor style or room colour, ... more »
Eco Heating –
Green Heating –
Energy

Here you can get great Electric Panel Heater Information. Econo Heat wall panel heaters offer out-of-the-way wall mounting and is an economic way of providing e... more »
Eco Heating –
Green Heating –
Energy