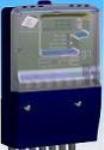 Product by:
EP&T


The G3 is designed to observe electrical use in tenancies, and can be used in combination with EP&T's G4 meter, which observes main circuits from a building's switch room.
The G3s record a fraction of the current in comparison of a G4 (a maximum of 100A), as a result production and installation is simpler and the cost is considerably lower.
The G3 can observe the three-phase electricity, or in three entity phases. They have same communication capabilities and as the G4 meters they can put on the similar communication lines.
At per communication line it is likely to have a combination up to 124 G4 or G3 meters, which permits for a gathering and communication of a large amount of data. All this information from the G3 meter goes back to the EDGE Intelligent System so the building manager, or interested party, can view the utilization of each individual tenant. The G3 considerably get better the talent of a building manager to manage energy use and delivers continuing worth to building owners and tenants.
For offering a cost-efficient method of considerate energy utilization at the occupancy level a new tool in building energy management offered by the G3 Meter.
Please use the Contact form on the right for Edge G3 Tenancy Meter information and ordering.