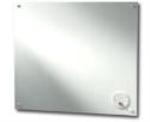 Product by:
Econo Heat


To get an effective room Eco Heating at a little cost use the Econo Heat wall panel heaters which also offers remote wall mounting.
Using Econo Heat convection technology, heat is primarily produced behind the heater in the gap among the panel and the wall, which guides to an efficient up-draught of heat circulated into the room using the Econo Heat convection Technology.
This law of convection means that out of the 100% about 90% of the heat comes from the back of the panel, while only 10% is emitted from the front of the panel.
This type of background heating is very cost-effective, safe and efficient.
For more Electric Panel Heater Information, please contact Econo Heat in the form on the right.
Please use the Contact form on the right for Electric Panel Heater Information information and ordering.