Enviroprotecta Bags Product details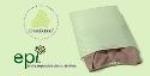 Product by:
Sancell


Sancell is the first to introduce totally degradable protective bubble bag. Sancell's EnviroProtecta Bags are manufactured from a high quality 3 layer bubble wrap film and are available in the various dimensions, side and end opening.
EnviroProtecta Bags are 100% LDPE They are a superior product, offering strength, durability and high quality, in an environmentally friendly degradable format.
Please use the Contact form on the right for Enviroprotecta Bags information and ordering.
Other Sancell Products
1 listed

Dispensers Sancell offers a range of convenient bubble wrap dispensing systems that are designed to improve our customers packaging efficiency.... more »
Eco Wrap –
Eco Store –
Dispenser