Dispensers Product details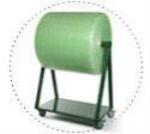 Product by:
Sancell


Sancell proposes a variety of suitable bubble enfold provision arrangement that are planned to advance our clients wrapping effectiveness.
Our provision arrangemenst build the work of defending your wares easy and gainful.
The Sancell distributor choice contains wall rise distributors that reduce store room use, self-supporting and movable distributors that let autonomy to stir the plant ground and the suppleness to produce provisional wraping positions for full of activity phase.
Our bubble wrap distributors are vacant in a variety of diverse dimension. Custom sized distributors are also vacant.
Please use the Contact form on the right for Dispensers information and ordering.
Other Sancell Products
1 listed

EnviroProtecta Bags The world's 1st totally degradable protective bubble bag introduce by Sancell. EnviroProtecta Bags are a superior product... more »