Forest Management Plan Product details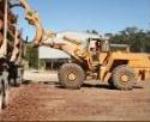 Product by:
HVP Plantations


HVP plantations contribute to the reduction of pressures on native forests and complement native forest management.
HVP plantation Timber annually replaces half a billion dollars of potential forest product imports into Australia, supporting local investment and employment. In addition to its softwood production the company is Australia's largest producer of plantation eucalypts for sawlogs.
They offer a wide range of Forest Management Plans. For details do visit us.
Please use the Contact form on the right for Forest Management Plan information and ordering.